Card-Operated Laundromat in Huntington Park
Huntington Park, Los Angeles County, California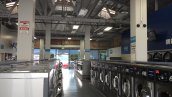 Description
Beautiful and spacious Card-Operated Laundromat in the heart of Huntington Park. The store is equipped with high-efficient washers and dryers and features a state of the art Card System. This is a must-see for any buyer looking to operate a great laundromat.
Expand description
Financials
Call for Details
Call for Details
Equipment Assets
No data provided.
Lease Details
No data provided.
Business Operations
No data provided.
Listing Disclaimer: The information on this listing has been provided by either the seller or thier business broker. Niche Media owner of LaundromatForSale.com has not verified any of the information on this page and assumes no responsibility for its accuracy or completeness. Interested parties are encouraged to contact the seller and/or the seller's broker directly to conduct their own independent verification of this information.
Elite serves our clients with over 40 years of combined knowledge and experience in commercial laundry sales and acquisitions. We specialize in coin laundry brokering, consulting, developing, commercial laundry equipment sales and remodeling. Elite Business Investments was formed by pooling the knowledge and experience of three commercial laundry industry veterans. Most of our Team have either owned or operated laundromats for many years. As a result, this provides first-hand expertise when it comes to being successful in the industry.